Dear <<First Name>>,
I am back this week after an adventurous twelve day journey through Italy and Croatia with a quick stopover in Copenhagen. From flood rains, to mountain escapes, the downside of counting islands and the benefits of waiting … you can read all about those journeys in this travel article I posted on LinkedIn yesterday.
Of course, I've also been curating many stories to share with you and I'm so excited to share them here. Below you'll read about travel guide scams, wearable insects, how Photoshop might expand our memories, medical uses for mixed reality, image cloaking and Japan's human solution to its labor crisis.
Enjoy all the stories this week and stay curious!


The Travel Guide Scam and Why Brand Is About To Matter More
Perhaps you've taken a journey recently yourself, or are planning to this month … and if you are, then you might seek out a travel guide to help plan your trip. The problem is, many of the self-published guides you're likely to encounter on Amazon are filled with inaccuracies, AI-generated nonsense or lazy cutting and pasting of online articles. According to recent reports, the volume of these scam travel guides is exploding.
Luckily, their prevalence seems to be focused on Amazon … which means duped travelers will probably initiate a quick return back to Amazon for a refund. So the winners of this, ironically, may be the established travel guides from the likes of Rough Guides, Fodors, Frommers, Lonely Planet or Rick Steves. When you aren't sure what to trust, most consumers will revert to brands they recognize. Yet another example of why brands built up over decades or more tend to weather storms like this better than others.
How Mixed Reality Could Transform the Healing Process By Helping People Understand Their Own Bodies
You get injured and undergo a medical procedure to help. Afterwards, you're usually given a set of instructions, perhaps some prescription medication and then sent on your way. The problem is, the average person doesn't really understand what's happening in their body and what the best methods might be to heal. Now mixed reality, in the form of headsets and VR technology might be able to help.
One writer decided to use a new medical VR app released for the Playstation gaming system to better understand the nature of his own back injury. By delving into an immersive 3D model of the human spine, he could see what his herniated disc had caused and how certain exercises might help him to recover faster. He suggests that this "visual knowledge" not only helps him to target his rehabilitation exercises more efficiently, but also get motivated to do them in the first place.
How "Image Cloaking" Is the Latest Attempt To Prevent AI From Reading and Copying Online Images
In the early days of the web, there was a beautifully thought out element tag called "nofollow" that you could add to the coding of any webpage to prevent search engines from indexing that page. It worked and offered something that seems increasingly hard to get online these days: control. Not everyone is ready to accept losing this control. There are several startups working on tools that promise to allow digital creators, artists and the rest of us to shield images we share online from being ingested by AI algorithms and used for training the technology.
One of them called Glaze "protects images from unauthorized training by AI" and says it is "designed to disrupt the AI's ability to analyze the fine details in artwork." Another called simply Photoguard aims to protect we all share online from "malicious manipulation by AI models." Together, these startups are part of a growing ecosystem of "digital cloaking" technology that will continue to evolve as a counterbalance to the AI-fueled content revolution.
Japan's Solution To It's Labor Crisis? Hire More Workers Over 70​
Most articles you might read about the crisis caused by Japan's aging population is usually coupled with some mention of the many ways technology is being designed to address the problem through workplace automation or robotic in-home elder care. Now it seems some employers are landing on a surprisingly unexpected solution: hire more workers over 70 years old.
This solution shouldn't feel so innovative. After all, as people live longer, their capacity to work for longer also increases. In addition, having work to do can offer a sense of purpose as well as combat the social isolation that affects many people as they get older. In other words, this is one of those rare stories of a solution that can address many problems simultaneously. If only it weren't solely considered by companies as a last-ditch option driven by desperation.
Will Photoshop's New Expand Feature Lead To False Memories Or Realities?
Maybe you've already heard of Photoshop's new "Generative Expand" feature that allows users to "expand images in any direction and generate an additional scene for the space with a combination of traditional app tools and AI." Most of the examples of use cases for this feature involve filling in background details or fixing a photo that was unintentionally cropped too closely. The potential future uses for this technology, though, are worth considering.
What happens when AI expands images from history to perhaps add details of people or elements that never happened? Or how might family histories be retold or reinvented by expanded details in old family photos that bring new truths to light? What about vacation photos that can be filled in with context or details of things that were never part of the original experience? Though seemingly innocent, this "expand" feature could end up doing much more than creating new backgrounds. It might generate backstories that people believe and accept as truth even though they never happened.
Even More Non-Obvious Stories …
Every week I always curate more stories than I'm able to explore in detail. Instead of skipping those stories, I started to share them in this section so you can skim the headlines and click on any that spark your interest:
How are these stories curated?
Every week I spend hours going through hundreds of stories in order to curate this email. Looking for a speaker to inspire your team to become non-obvious thinkers through a keynote or workshop? Watch my new 2023 speaking reel on YouTube >>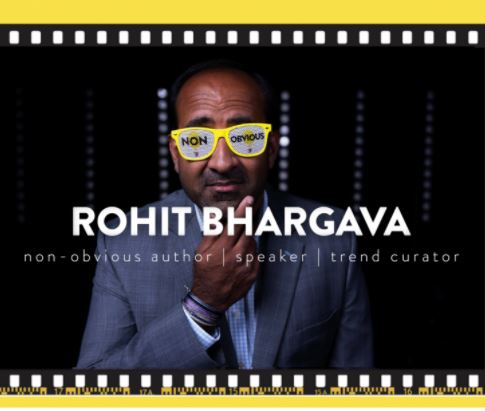 Want to share? Here's the newsletter link:
https://mailchi.mp/nonobvious/381?e=[UNIQID]
Copyright © 2023 Non-Obvious, All rights reserved.
Want to change how you receive these emails?
You can update your preferences or unsubscribe from this list
Get this newsletter directly in your inbox every Thursday! Subscribe here >>