Dear <<First Name>>,
I am a few steps away from the Hollywood Walk of Fame in Los Angeles this morning as I put the finishing touches on this week's edition of the newsletter. In the stories below, you'll read about the rise of #lazygirljobs, how accessibility is getting more normal, why the solutions for retail theft might make problems of tech-driven bias even worse, the unfortunate return of Fyre Festival and the unusual story of a team that has lost more than 17,000 times. Enjoy all the stories and if you happen to be in LA this week, let me know.
Stay curious!


What "Lazy Girl Jobs" Say About Gen Z, Privilege and Work Ethic
The WSJ crowned this the "hottest new career goal of the moment:" Lazy Girl Jobs is a term used to describe "low-stress, low-effort roles that pay decently well (think $60-$80k) while allowing plenty of freedom and flexibility." It has many of the hallmarks of an anti-trend, most notably the philosophy that sometimes leaning out instead of leaning in is the best way to achieve the elusive balance between having a job and having a life.
The term is widely credited to 26 year old content creator Gabrielle Judge, who chose the provocative term as a clever ploy to garner attention. Clearly it's working. The term has plenty of critics who note that this is exactly the wrong mentality to encourage in young women and will probably adversely affect their careers. Not to mention the overflow of unacknowledged economic privilege baked into the concept. Yet as the article linked above notes:
"Many young women who have branded themselves 'lazy girls' online insist they are anything but. After growing up hearing about the horrors of overwork, they say they're happy in their jobs and celebrate striking work-life balance gold."
Is this really the "antidote to quiet quitting"? Are the "horrors of overwork" really something to be afraid of? Or is this ill-timed misogynistic advice conveniently getting shared just as professional women are making wide-spread gains in the working world? Supporters of this idea (including Judge herself) believe that it's a symbol of just how much the next generation is rethinking the nature and necessity of work itself. What's your take? Are #lazygirljobs here to stay or just a short lived fad?
How Accessibility Is Getting More Tactile, Innovative … and Normal
Technology was supposed to make the entire world more accessible. It still can, but sometimes it seems that progress has stalled. This past month, the MIT Technology Review magazine devoted an entire issue to exploring the future of tech-enabled accessibility and how it may soon be more "normal" than you think. They spotlight everything from the sonification of science to the use of tactile images to end graphic poverty. As I read several of the articles from this issue, examples of the impact of putting accessibility first kept coming up for me in real life too.
United Airlines announced they will be adding braille signage in cabins to help disabled travelers. Architects are working to create acoustically inclusive spaces designed for deaf people. While traveling earlier this month I visited the world renowned Guggenheim Museum in Venice and saw examples of their innovative inclusion "double meaning" program that features tactile reproductions of famous artworks so people can experience paintings and sculptures through touch.
These types of accommodations can seem invisible if you aren't disabled or don't choose to pay attention to them. But feeling a tactile representation of a painting, like many other such accommodations, can offer an entirely new way to experience something for all of us … whether we can actually see it or not.
Why the Solutions To Organized Retail Theft May Make Things Worse
This week retailer Dick's Sporting Goods reported below expected quarterly earnings and blamed it on a surprising reason: extremely high theft. While theft in retail is such a commonplace occurrence that it has its own term ("shrinkage") to describe it, whether theft is actually increasing isn't quite so clear cut. Are more customers or employees actually stealing? Or are retailers using this as a convenient excuse when they have difficult to explain gaps in profitability?
The truth may involve a little of both, but for a problem that the National Retail Federation estimates might cost retailers over $90 billion a year, there are clear financial incentives for the industry to find a solution anywhere they can. It is already leading to examples like Lowe's Project Unlock program designed to discourage organized crime by using RFID chips embedded in electronic tools to make the devices inoperable until they are activated.
While that is a solution that affects all people equally, there are some initiatives that have more potential for bias, as retailers aim to utilize facial recognition cameras, AI-powered video surveillance, autonomous security robots and predictive analytic software. The likelihood of bias being built into all these systems is high, as are the risks. But with this much money at stake, the development of these technologies will likely charge ahead.
Fyre Festival 2 Raises The Question: Who Deserves a Second Chance?
Do you believe people deserve a second chance? It seems Billy McFarland, the disgraced producer of the Fyre Festival debacle back in 2018 is now back after serving his six year sentence for defrauding concert-goers and getting released early. What's he back with? Fyre Festival II, of course! And apparently the first wave of tickets is already sold out, inspiring plenty of confused stories from media wondering why anyone would give him their money again after his track record. As Rolling Stone writes:
"It has been the absolute wildest journey to get here," McFarland said, in what may go down as the single greatest quote in human history. "And it really all started during a seven month stint in solitary confinement."
The story has plenty of people writing about why a convicted concert promoter/scammer is even getting a second chance, but the story illustrates one of the most fundamental rules of media that is and has always been true. Stoking people's outrage is a predictably effective way to get attention. In other words, this dude may be a sleazy salesman with a very punchable face … but he definitely knows what he's doing when it comes to separating suckers from their money.
The Team That Has Lost 17,000 Times … And Counting
People love an underdog. Unless it's the Washington Generals. They are the team that have played against the legendary Harlem Globetrotters for more than 50 years. In all that time, they have managed just one win and more than 17,000 losses. Their job is to lose, which creates a pretty fascinating scenario for professional athletes who are skilled enough to play in front of hundreds of thousands of people around the world, but are never allowed to take a victory lap. They are the basketball equivalent of the sad hapless clown in the circus-like atmosphere of a Harlem Globetrotters show.
The story of their evolution, and that one fateful game back in 1971 where they accidentally won, is worth a read. This is a rare story in sports but also in any other sector. The Washington Generals are paid to lose and be losers. Their job is to make their opponents shine. That is a special kind of person who can do a job like that day in and day out. And its hard, which is why the player turnover for the Generals is notoriously high.
Not everyone can take the emotional beat down of constant ridicule and predictable losing. The ones who can must be fascinating people. If I could have one of those "invite anyone to dinner" types of gatherings, I'd probably put a longtime Washington General on the list. I just think everyone could learn a lot from a person like that.
Even More Non-Obvious Stories …
Every week I always curate more stories than I'm able to explore in detail. Instead of skipping those stories, I started to share them in this section so you can skim the headlines and click on any that spark your interest:
How are these stories curated?
Every week I spend hours going through hundreds of stories in order to curate this email. Looking for a speaker to inspire your team to become non-obvious thinkers through a keynote or workshop? Watch my new 2023 speaking reel on YouTube >>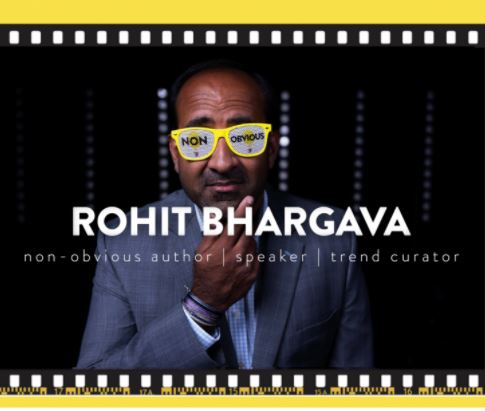 Want to share? Here's the newsletter link:
https://mailchi.mp/nonobvious/382?e=[UNIQID]
Copyright © 2023 Non-Obvious, All rights reserved.
Want to change how you receive these emails?
You can update your preferences or unsubscribe from this list
Get this newsletter directly in your inbox every Thursday! Subscribe here >>