Dear <<First Name>>,
What lessons about our identity can we learn from Prada's new $650 underwear? Could the ideal solution for animal welfare be to abolish wilderness? Are bathtubs one of the casualties of the American home downsizing trend? Is Ibiza really the party destination of choice for rich assholes? All these stories, plus a fascinating new "wireless kid-noise canceling technology" are featured in stories from this week's non-obvious newsletter.
Stay curious!


Abolishing Wilderness and Ten Things You Can't Say About Climate Change
For most animals, life in the wild is "one overwhelmingly characterized by fear, predation, stress, disease, parasitism, exposure, hunger, infanticide, cannibalism, and early death." And there is an active human quest to protect and create more wilderness where those animals live. So here's a mind bending moral question: to protect animals, should we be abolishing wilderness?
That's just one of the contrarian ideas that comes up in this edition of the Breakthrough Journal which explores "ten words you can't say about climate change." It's an intellectual and somewhat dense collection of essays, but interesting to read if you're a fan of having your assumptions challenged in fundamental ways – or perhaps having them reinforced (depending on your perspective). Either way, this series of articles are good reads if you can find some time for thoughtful media in your week.
Americans Downsizing, Smaller Homes and the Death of Bathtubs
The recent "near record high" home prices are leading to a surge in demand for smaller homes and inspiring more American home buyers to consider downsizing to homes without luxuries like bathtubs or dining rooms. The average size of homes sold across the country is ranging from 10% to 20% smaller than just a few years ago. The shift has already started to transform many related markets, as furniture manufacturers offer more customization create designs for smaller spaces and homeowners are using landscaping to create more defined outdoor spaces with privacy.
At the same time as you have this downsizing trend, America is also facing a severe housing crisis, people who had invested in second properties hoping to rent them through Airbnb are struggling due to oversupply (dubbed the "Airbnbust") and stories of "ghost towns" filled with uninhabited housing across China all offer reminders of the housing inequity across the world. As our population ages, the way we live will also shift and more stories like this will come. Today, the flux might make bathtubs a bygone symbol of the past. Tomorrow it may be something even more surprising.
12 Wild Stories From a Nightlife Concierge In Ibiza
An alternate title for this article could easily have been: "Ibiza: Where Rich Assholes Go To Party." That's the impression you'll pretty immediately have as you start reading these stories from a writer who spent just a week working as a concierge managing wealthy client demands at a top resort in "Ibitha" – as it's often pronounced by those trying hard to belong amongst the cool crowd and fit in. Many of the stories, in fact, do seem to underscore the truth of this stereotype.
His job entailed everything from getting impossible reservations for a DJ's set to coordinating a 20 person feast with lamb from the Middle East for a guest who changed his mind and ordered the butler to go out for McDonald's at the last minute instead. The stories are so readable perhaps because they unveil the true lifestyles of the rich and insecure. We consume them in the same way we might indulge in reality TV … as a reminder that no matter our vices, at least there are humans out there quantifiably worse than us.
Cameo Offers Actors a Lifeline During a Prolonged Industry Strike
My first experience with Cameo was during my wife's birthday several years ago. In the midst of the pandemic, we were unable to host a proper party – so I turned to Cameo and enlisted a handful of her favorite actors from the (then) hit show This Is Us including Mandy Moore and Chris Sullivan to record birthday greetings for her. It was during a time when many actors found themselves unable to do their usual work, so the idea of recording short videos for fans and getting paid was appealing.
Now as we are entering the fifth month of the Hollywood writers strike, even more actors are turning to Cameo as a lifeline not only to make a bit of money on the side, but more importantly for keeping their health and pension benefits through a timely move from Cameo to ensure that actors can count their earnings on the platform toward their existing health and pension benefits. It's a great startup story of both being in the right place at the perfect time, and ensuring that you push through a benefit that really matters to your partners (the actors).
What Is Prada's New $650 Underwear Designed To Be Worn Without Pants Really Saying?
According to fashion industry insiders, Prada's latest release of a $650 pair of underwear is "no surprise" given the brand's track record of expensive essentials. What was unexpected, however, was how the brand seemed to be positioning the underwear as desirable outerwear without pants.
In conversation at a fashion industry event once, I recall hearing these runway designs that may seem ridiculous to outsiders as a "provocation." Many are not meant to literally be a piece of clothing someone might wear but rather as an invitation to rethink the way we choose to share our identity with the world through the way we dress. So what might wearing underwear instead of pants signal to the world about your personality?
Confidence. Rebelliousness. Lack of social awareness. At the end of the day, it did work for Superman, right?
Even More Non-Obvious Stories …
Every week I always curate more stories than I'm able to explore in detail. Instead of skipping those stories, I started to share them in this section so you can skim the headlines and click on any that spark your interest:
How are these stories curated?
Every week I spend hours going through hundreds of stories in order to curate this email. Looking for a speaker to inspire your team to become non-obvious thinkers through a keynote or workshop? Watch my new 2023 speaking reel on YouTube >>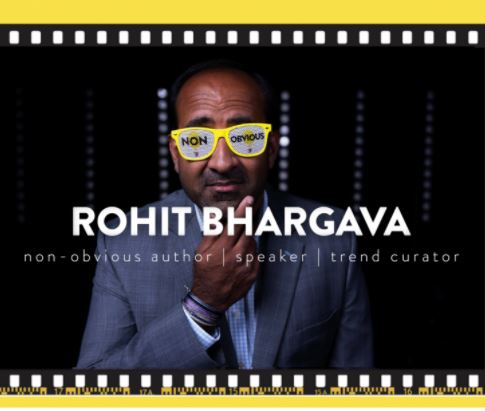 Want to share? Here's the newsletter link:
https://mailchi.mp/nonobvious/383?e=[UNIQID]
Copyright © 2023 Non-Obvious, All rights reserved.
Want to change how you receive these emails?
You can update your preferences or unsubscribe from this list
Get this newsletter directly in your inbox every Thursday! Subscribe here >>