First of all, a big thanks to everyone who submitted applications for our Book Launch Team! All of you will be hearing from me shortly. Also, thank you and welcome to all my new subscribers from my live events this week – it was so energizing to see so many of you in person and be on stage again.
I had lots of airplane time for reading this week and in my non-obvious story selections below, you'll read about the confidence crisis in plant-based meat, why humans might be the battery of the future, how young people spend their money, why wearing ugly clothes might be the new way to confuse facial recognition tech and TikTok's not-so-secret magic "heating button" that can make any video go viral. Enjoy the stories!
Can One Article Take Down The Plant-based Meat Industry?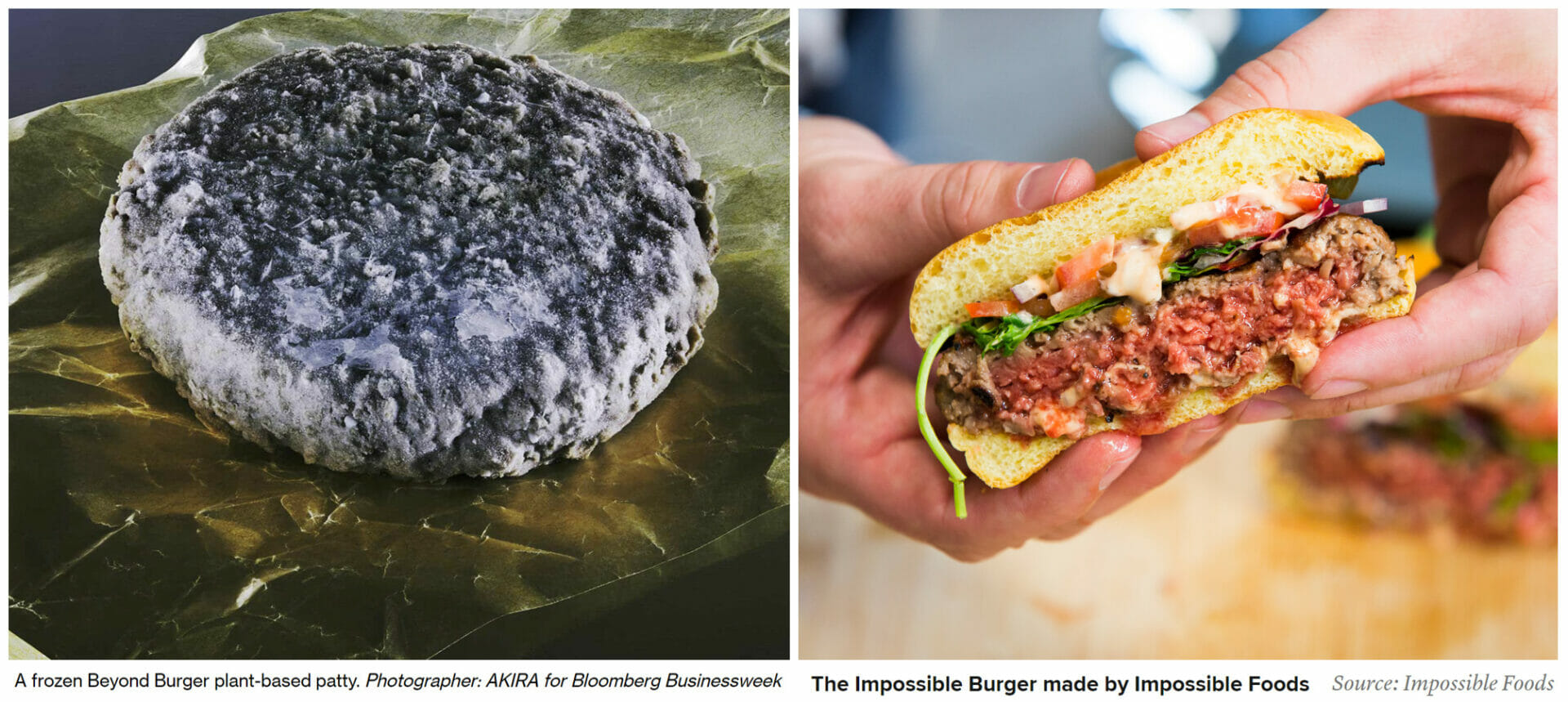 Businessweek's "big take" cover story this week was about how plant based meat may turning into a "flop." The story ignited a firestorm of debate online, angry responses from plant-based meat manufacturers and more than a little confusion from meat-eaters and vegetarians alike. Will this one-sided expose of the down-side of fake meat become a nail in the coffin of the multi-billion dollar plant-based meat industry? 
The meat industry has a clear financial motivation to discredit plant-based meat. At the same time, the hard-to-pronounce ingredient list and highly processed nature of fake meat make it an easy target for criticism from advocates of healthy eating who argue it shouldn't really be classified as a "healthy" food option. When you add the rise of companies like Upside Foods that are researching new ways to produce lab-grown "real" meat, the future for plant-based meat doesn't look easy. 
TikTok's Secret "Heating Button" Can Make Any Video Go Viral
A report this week from Forbes exposed a secret "heating" button that TikTok employees have been using to control which videos go viral by promoting them specifically to users' For You pages. This type of feature has long been suspected but the admission feels like a new level of transparency on how the king-making backend functionality of popular social media platforms may actually work.
While the story has generated some blowback, it's not unusual. The New York Times, for example, has always had it's own similar ability through the contradictory editorial choices it makes to ignore data and arbitrarily choose certain books to included or excluded from their bestseller list. While we sometimes might want to believe that the best content (or the best books) will get the views and recognition simply because they deserve it … the reality is this type of success is routinely far more manufactured and controlled than we realize. 
New Postcard Project Aims To Tell The Stories of the Undocumented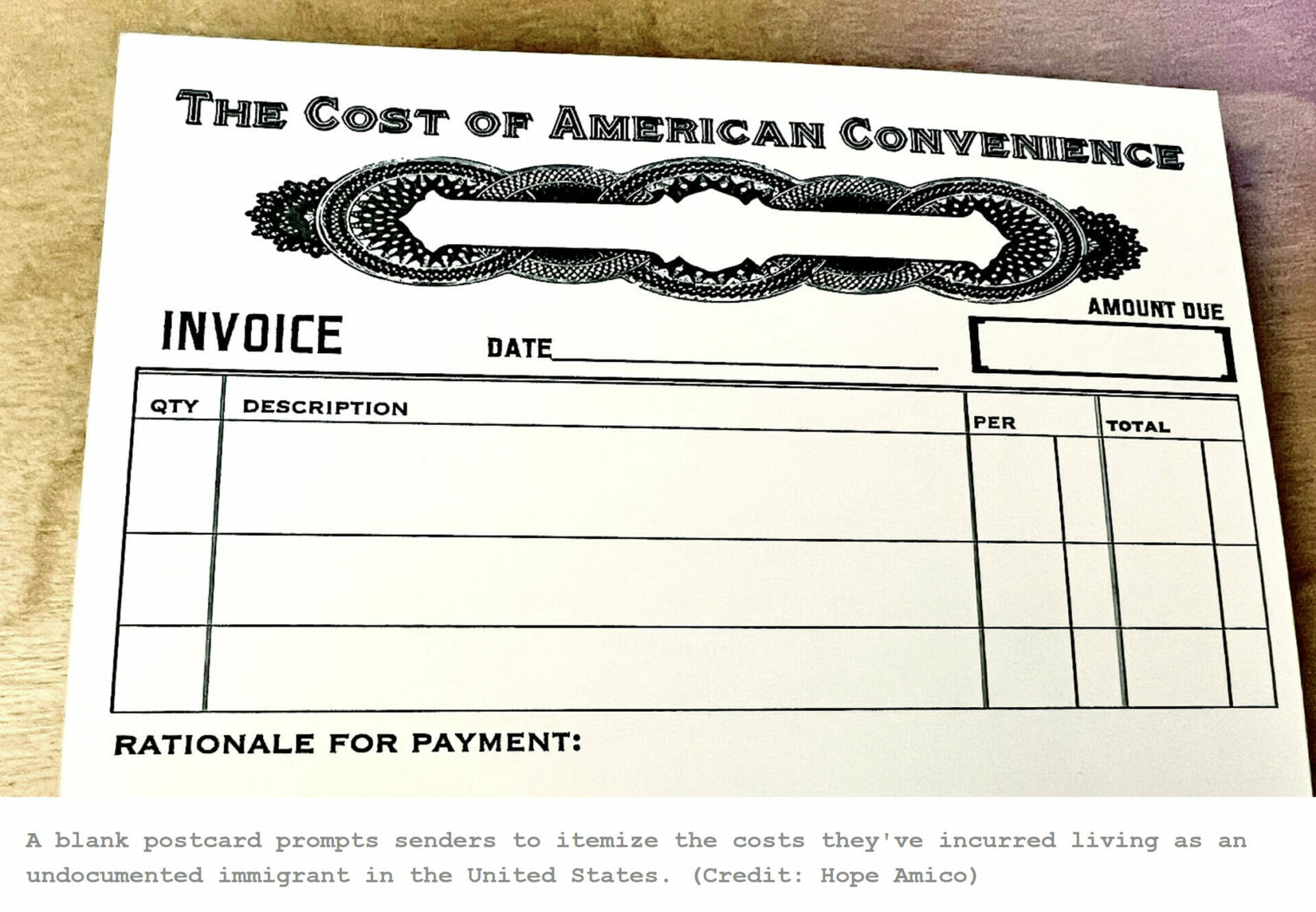 How can you tell the stories of the ignored? A new collaboration from Stanford Professor Antero Garcia and Mexican filmmaker Alix Dick uses postcards to solicit stories from undocumented people living across America. The Cost of American Convenience postcards aim to capture the stories of people who are often portrayed as a burden on American society and flip the narrative to explore a different question: "what are the costs to them and their lives? What's been taken? And how and why do they continue to pay these costs for living in America?"
The project is an example of what Garcia calls autoethnography, a process that involves "individuals naming their own experiences and relating them to the world around us." Along with the postcards, the efforts include an online magazine that features heartbreaking posts from undocumented writers struggling to find their place in a country with a biased system that continually holds them back. One of my aims with this newsletter is to try and shine a spotlight on the stories of people who are too often ignored. This project struck me as a perfect example of that.  
You Might Soon Become The Battery That Powers Your Own Devices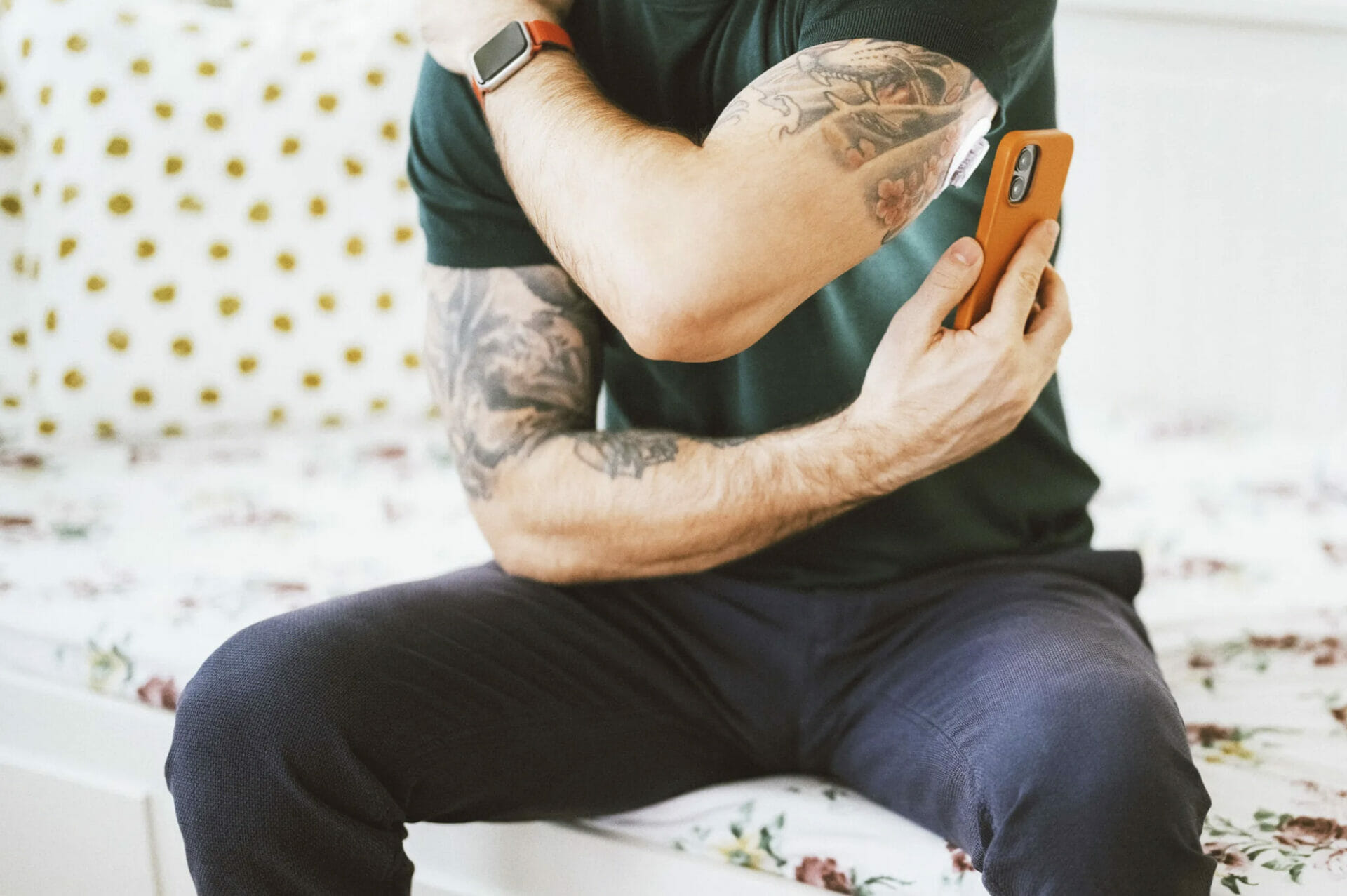 Here's a fact about your body: it already generates enough energy to power any wearables, medical sensors, or implanted device you might need or want. The problem has always been a lack of efficient methods to harness this energy—a challenge that scientists may be close to solving. The result is a reality where your own body can act as the battery for all sorts of devices. The emerging terms used to describe this field are "electroceuticals" or "biobatteries."
Using movement in this way in undeniably smart. If they are really studying human behaviour, though, they should probably start by figuring out how to maximize the transfer of energy produced from a thumb scrolling a touch screen. Then when you spend too much time on social media, you can at least justify to yourself that did something useful at the same time.
How Young People Spend Their Money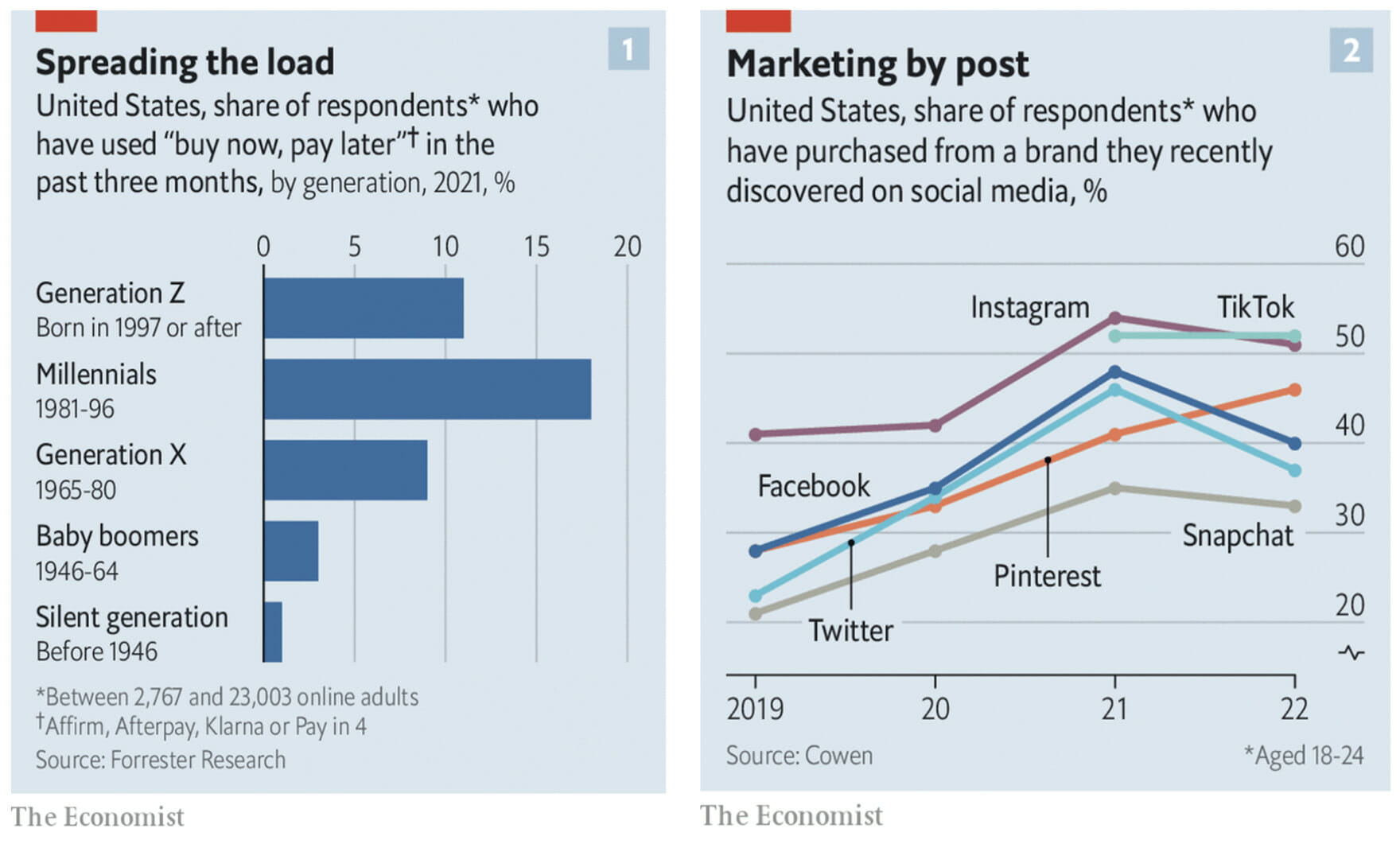 An article in The Economist this week collected insights about how young people shop … and most of them were totally obvious. Young people have a lower attention span, expect delivery times to be faster, use their phones to pay, like buy-now-pay-later apps, care about a brand's values, use social media to discover products and want instant gratification. Nothing surprising there.
I did find two points buried in the story that felt a little more significant. First, the article notes that young consumers "like subscriptions, often favoring shared access to products rather than outright ownership." In addition, they "often shun a weekly shop for quicker fixes of everything from fashion to furniture."  The first point about sharing versus owning is already transforming industries and is likely to be one of the most important generational shifts in consumption. And the second about "quicker fixes" suggests that the old model of a big shopping day or the concept of spending a day at a mall shopping is becoming less appealing than quick shopping trips with perhaps more impulse buys.
Even More Non-Obvious Stories …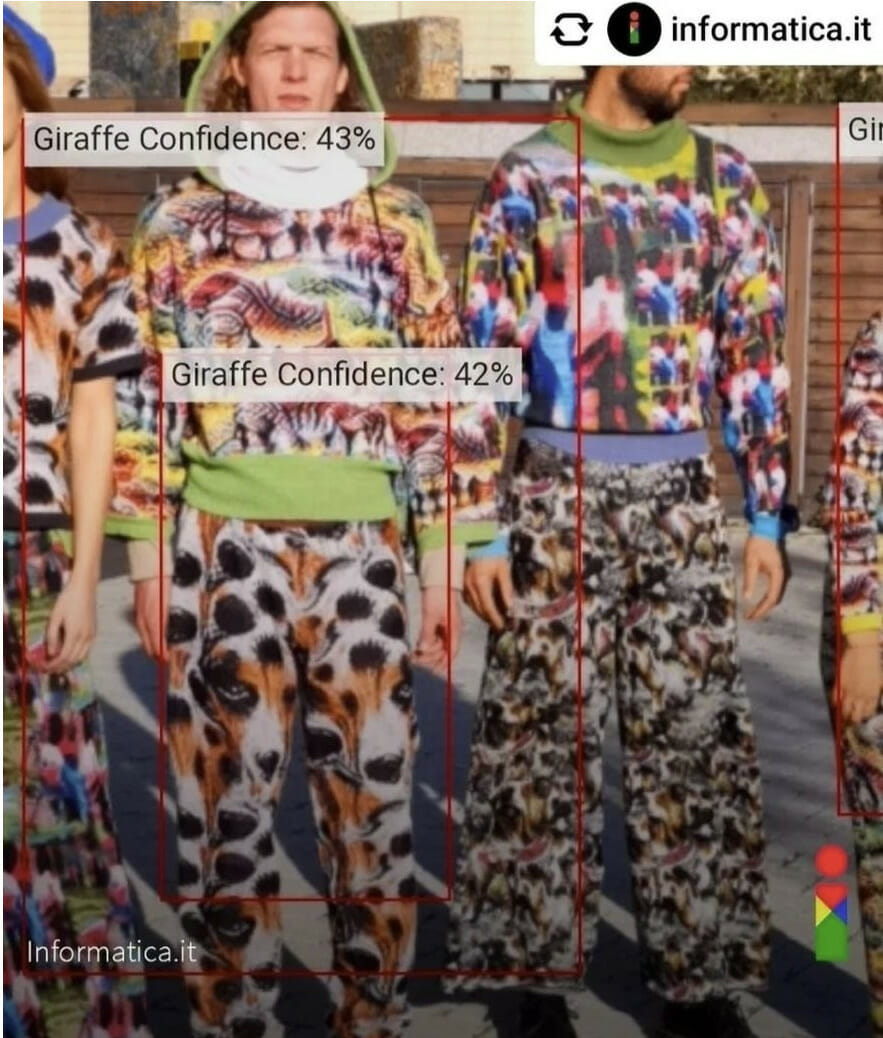 Every week I always curate more stories than I'm able to explore in detail. Instead of skipping those stories, I started to share them in this section so you can skim the headlines and click on any that spark your interest:
How are these stories curated?
Every week I spend hours going through hundreds of stories in order to curate this email. Want to discuss how I could bring my best thinking to your next event as a keynote speaker or facilitator? Watch my new 2023 speaking reel on YouTube >>
Get this newsletter directly in your inbox every Thursday! Subscribe here >>