Happy Thanksgiving to those who celebrate it here in the US or across the world. I am writing this week's edition of the email newsletter sitting in an airport in Sao Paolo headed home after a far too short visit to Brasil that did manage to offer several new experiences – including trying 100% warm cacao (yes, it's good for you), testing out a large truck driving simulation (apparently I am not so good at driving a truck through a narrow toll booth) and presenting on a pretty unique round stage (check out my Instagram for photos).
In between the travel, of course I was curating stories and so for this holiday edition of the newsletter, let's jump into them starting with the story that's top of mind for me right now: the upside of eating alone.
The Upside of Delayed Connections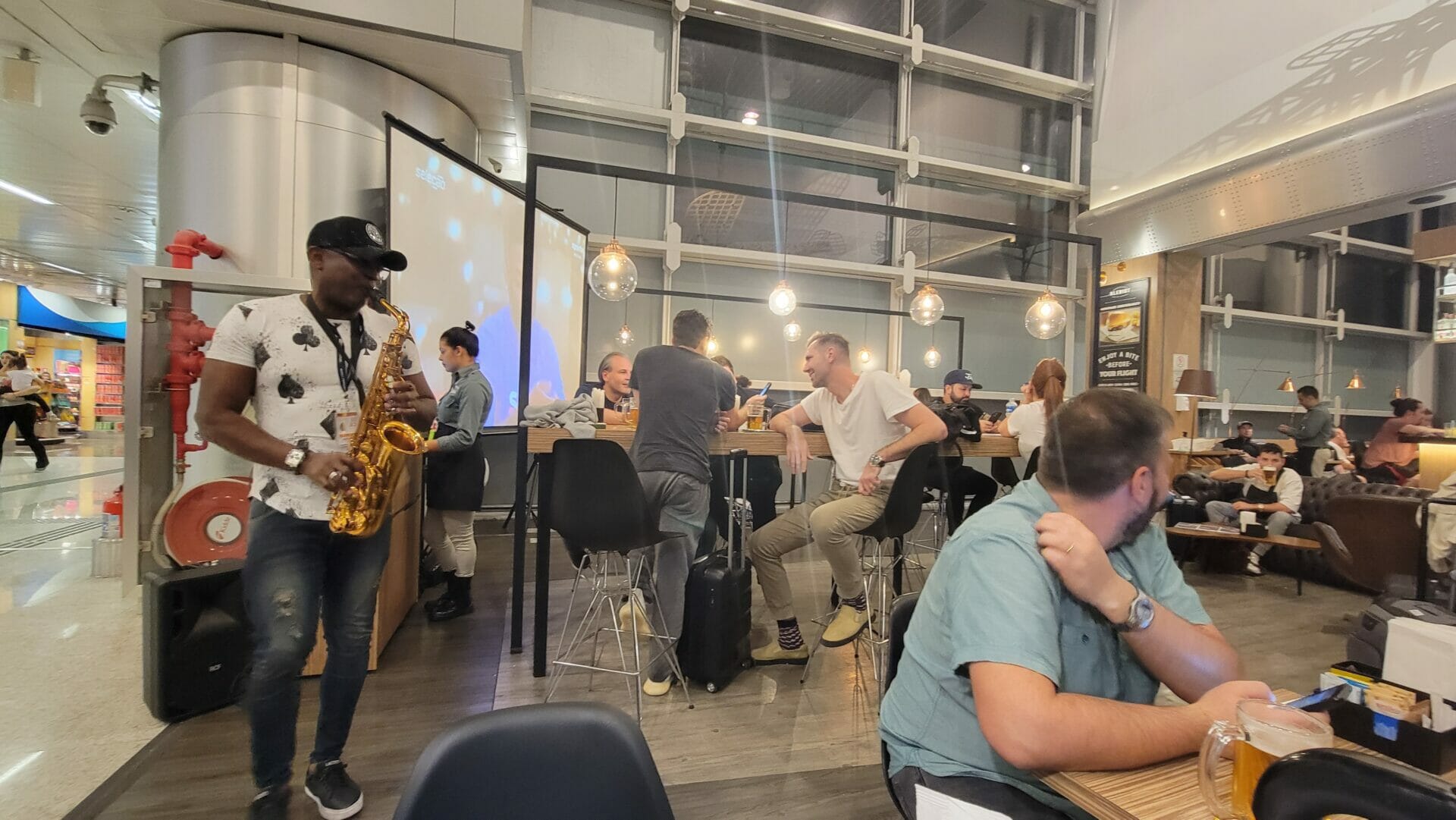 There is a difference between sad food and solitude food. That's the main idea of this article I read, sitting in a Brazilian airport cafe waiting for my delayed flight. In front of me is a musician playing his saxophone alongside a backing track from his ipad and a tiny amp. He is alone too, apart from the occasional three-year-old who stops to dance along to his tunes. Most passengers instead seem on a mission to find duty free alcohol, stand in a queue that won't start boarding for another hour or buy in-flight snacks they probably don't need.
I chose this open spot because the energy was much better than the quantifiably sad VIP lounge, filled with tired business men (yes, it is still all men) far from their families the night before Thanksgiving. It is true, business travel does have it's own type of desperation.
Still, I find airports the perfect venue to write, read and watch people in a way that satisfies my curiosity about their backstories without staring so long it becomes creepy. Sometimes I probably get the timing wrong. The upside of eating alone in an airport is the chance to notice the things others miss. It is an in between time that life rarely gives you. You have places to go, but getting there faster is out of your control. The plane will leave when it leaves. So I may as well sit here observing and writing. It's not a bad way to pass the time. 
Why Saudi Arabia Isn't the Cinderella Story You Want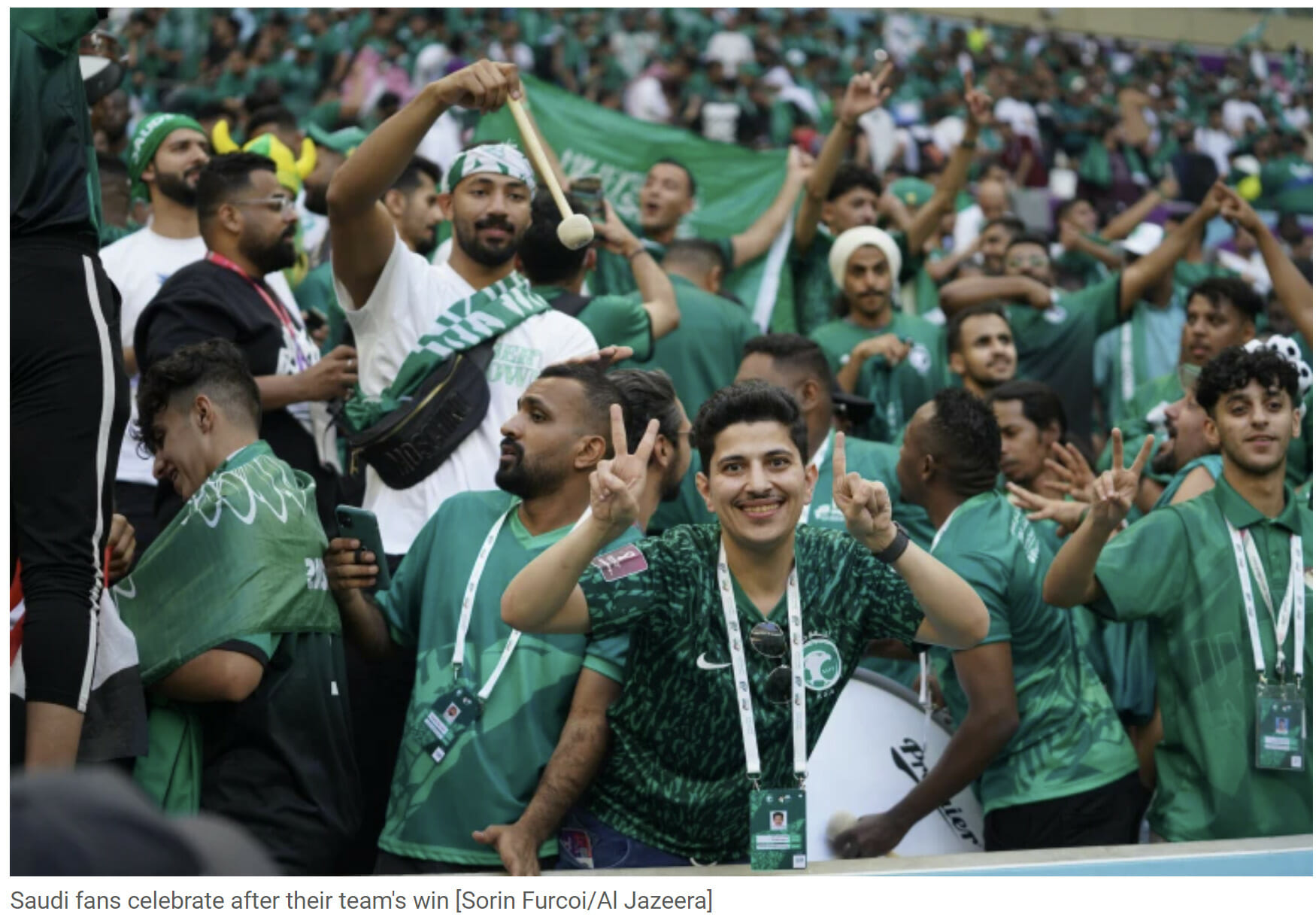 The early part of a World Cup that set the stage to shatter colonial myths about the Middle East has had plenty of drama, from Cameroon-born Swiss player Breel Embolo scoring the lone goal to lift Switzerland above Cameroon, to an upset win by Japan over one of the tournament favorites, Germany. The biggest upset story, though, was Argentina and Leo Messi losing to Saudi Arabia. Most people love an underdog story. The problem, as this astute article from Al Jazeera points out, is that Saudi Arabia isn't the Cinderella story that you want it to be.
In a World Cup already stained by controversy about human rights and the many migrant workers who came to Qatar and died during the construction of the mega-stadiums required for the big games, the Saudi Arabia victory risks distracting us from the larger picture. It's an important perspective to remember as the games go on and the issues that were so prominent going into the major tournament fade into the background. The fact that the World Cup is in a region it hasn't been to before is a glorious thing. It is also a tragedy on a human level for the people who were manipulated and abused to make it happen. This may be a contradiction, but that doesn't make either statement untrue. 
More Proof That the Words We Choose Matter Most … 
This week a cultivated meat producer called Upside Foods earned an initial GRAS certification from the FDA, which is considered the first step toward being fully certified. Unfortunately, GRAS stands for "Generally Recognized As Safe," which is a terrible phrase to use for describing anything. Would you eat something generally recognized as safe?
It just doesn't really sound like anyone is convinced. It's no wonder most people go with the acronym. The words we use to describe things shape how people perceive them. It's probably why the Biden administration has been working so hard to get the WHO to rename "Monkey Pox" to "MPOX." It's certainly less biased against monkeys or the places where they come from.
When you listen for these terms, though, you discover they are all around us. When my flight experienced turbulence yesterday, the pilot told the flight attendants to return to their "jump seats." Who came up with that and where are they jumping? Hopefully not off the plane without the rest of us. I'm a brand marketing guy so maybe I pay a bit more attention to this than most. Words to matter, though. They are generally recognized as important (GRAI). Which means we should all try a bit harder to find the best ones. Even if it is just to fully understand the difference between a a snafu, a shitshow, and a clusterfuck.
Tuvalu Desperately Announces They Might Become the World's First Digital Nation in the Metaverse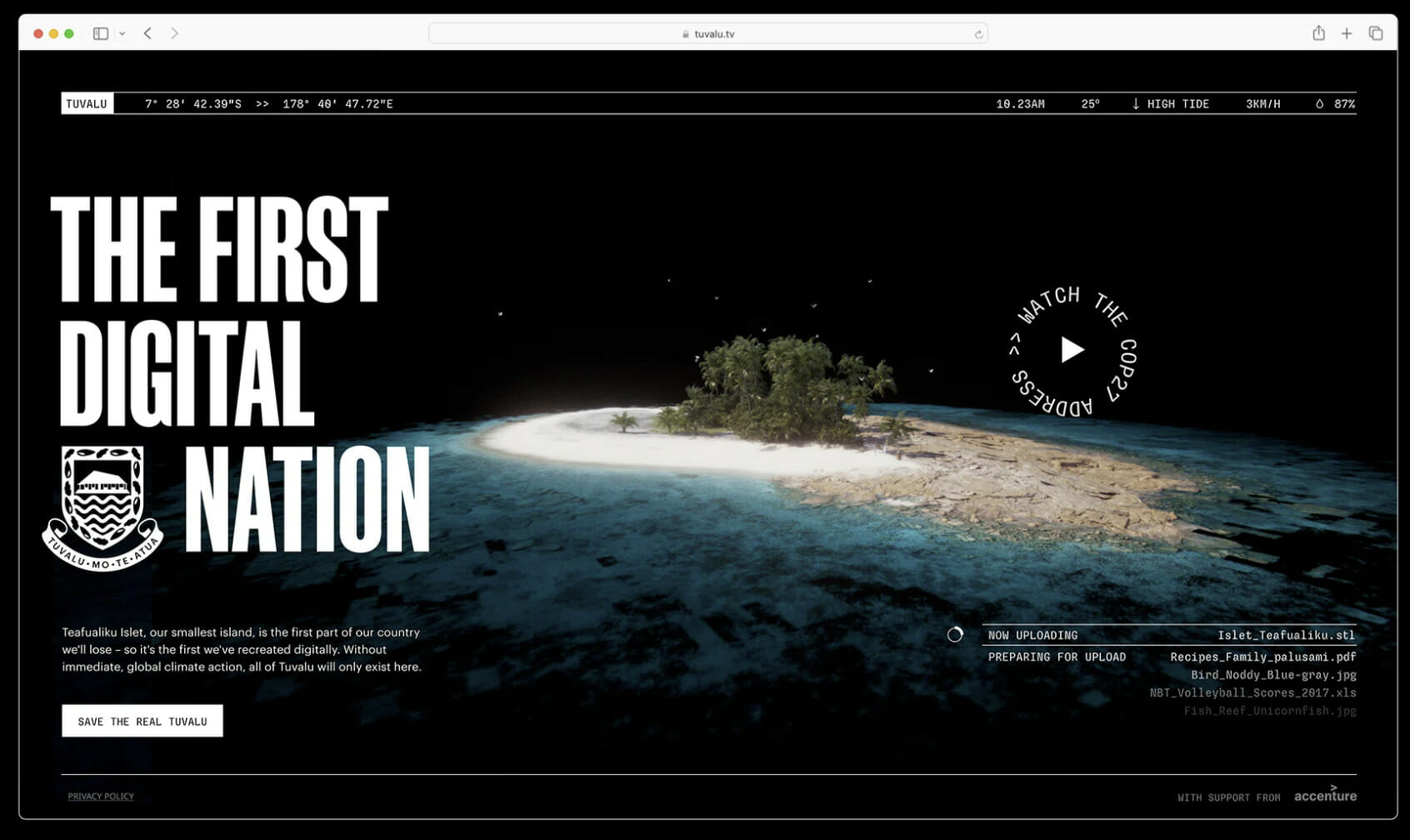 This is not a cool tech story. In case you don't know the plight of Tuvalu, the island nation is likely to be one of the first casualties of the rise in sea levels as the country is forecasted to be mostly submerged in the next few decades if the pattern of global warming continues. Despite bold suggestions such as dimming the sun, the time horizon is unlikely to offer salvation for Tuvalu – so now the tiny island nation's leaders have announced that the nation might be the first in the world forced to seek refuge in the metaverse:
"As our land disappears, we have no choice but to become the world's first digital nation. Our land, our ocean, our culture are the most precious assets of our people and to keep them safe from harm, no matter what happens in the physical world, we'll move them to the cloud."
It's hard to imagine where to start moving an entire culture into the metaverse, and the announcement is necessarily dramatic to draw as much attention to their tragic situation as possible. It also does raise some fascinating questions about how such as reimagined way of preserving an entire culture could work … and how many other cultures might necessarily be salvaged in this way if world leaders continue their failure to take significant action.
Even More Non-Obvious Stories …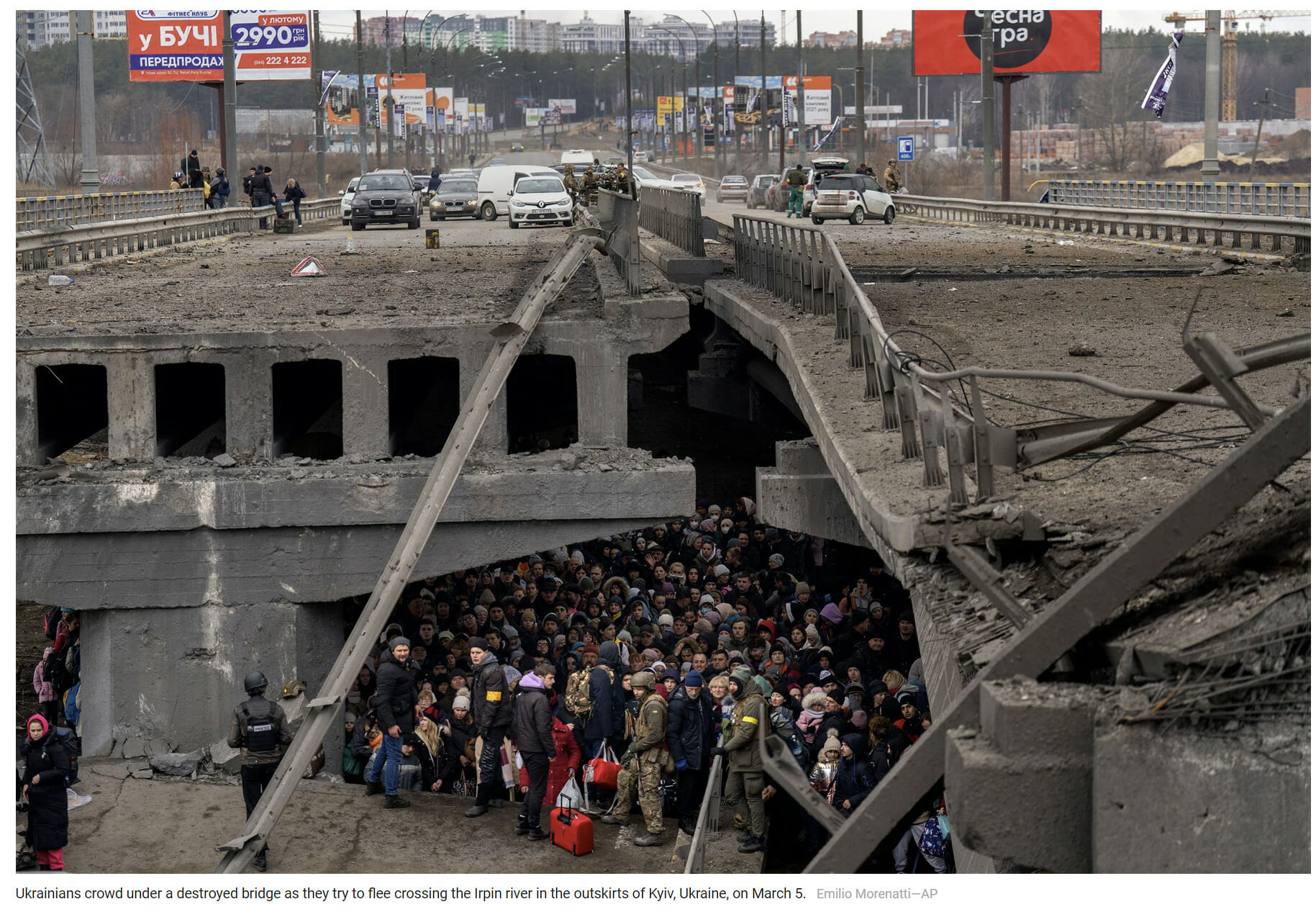 Every week I always curate more stories than I'm able to explore in detail. Instead of skipping those stories, I started to share them in this section so you can skim the headlines and click on any that spark your interest:
How are these stories curated?
Every week I spend hours going through hundreds of stories in order to curate this email. Want to discuss how I could bring my best thinking to your next event as a keynote speaker or facilitator? Watch my new 2022 speaking reel on YouTube >>
Get this newsletter directly in your inbox every Thursday! Subscribe here >>