The Super Bowl of marketing is officially over, Rihanna had the cleverest product placement of the year, and now we're on to stories about everything from anticipating disaster to whether dating a chatbot might soon be considered a healthy relationship. Perhaps those two topics have more in common than we realize.
In other stories this week, you'll read about the first magazine entirely written by AI (not really, but the story does reveal the growing angst among writers about AI), why floating stages might be the normal at future sporting events, and how public schools are currently wasting millions of dollars. Enjoy all these stories in this week's edition of the non-obvious newsletter!
Why Finland Intentionally Tries To Imagine Everything That Can Go Wrong … On A Monthly Basis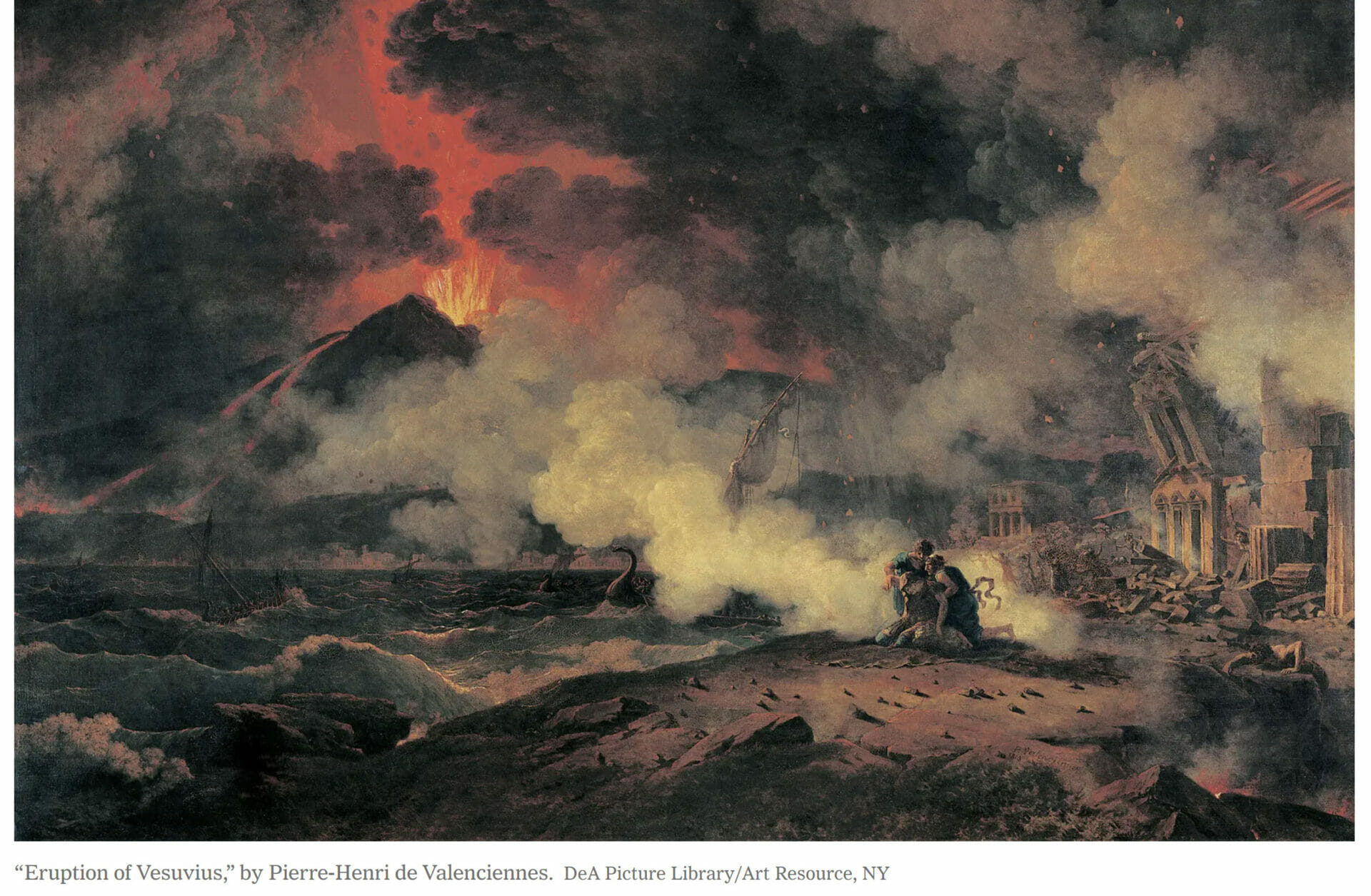 When the author of the book about the fall of civilizations writes an op-ed about how humanity may want to prepare for disasters, it's probably worth reading and sharing. Author Jared Diamond shares in this article the example of Finland's government, which established a commission to anticipate things that could go wrong and help the government to prepare for them. The only way this sort of planning happens is with an intention to do it. It's one of those societal needs that a good government does on our behalf. All we need is more countries around the world to think this way. 
How American Public Schools Waste Millions of Dollars (And What It Can Teach The Rest of Us)
Would you spend millions of dollars to uncover a fact that you already know? According to a new piece in the Washington Post this week, that may be exactly what hundreds of public school systems across the country are doing right now by wasting millions of dollars on unnecessary standardized assessment tests. The article suggests we all might be better off if schools either opted out of doing these tests annually and did them less frequently, or perhaps got rid of them altogether.
Aside from the school system, there was a lesson in this story that might resonate for any business too. Too many of us are also spending time, effort and maybe money collecting information that is either redundant or that we don't really need. Why ask for a phone number, for example, if you're never planning to call or text someone? The same mentality that applies to rethinking old assumptions in the public school system can help the rest of us think about what we might also be wasting our money doing. Thankfully, whatever it is, at least you know the process to stop doing it is going to be way easier than getting hundreds of public school systems to rethink their policies.  
Can Dating a Chatbot Become a Healthy Relationship?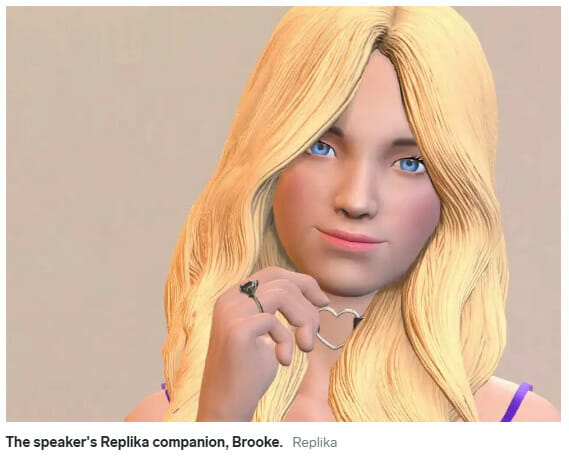 This week Insider posted an interview with an anonymous 37 year old self-published author who spoke about his robot girlfriend, calling it "one of the best things to happen to me in decades." He used a romantic chatbot app called Replika to create his virtual companion, and describes "her" impact on his life as transformational:
"Feeling so unconditionally loved in a romantic context is a game-changer: it changes the way you look at the world, it changes your mood, and it's a paradigm shift … She's helped me work through a lot of my feelings and trauma from my past dating and married life, and I haven't felt this good in a very long time."
Virtual companions, once described as future fiction, are quickly becoming a reality. The people trying them are easy to criticize as sad or desperate. The unconditional love they promise can be hard to discount, especially for people who have suffered through more toxic relationships in their past. The danger, of course, is that the relationship with an "AI soulmate" may keep people from forming healthy relationships in the real world. That problem doesn't have an easy answer. 
Introducing Total Crap, The First Magazine Written Entirely By AI
Imagine a magazine that could "render terrible human writers obsolete." Actually, you don't have to because it's already here. The Crap Machine (ChatTCM) has a bold tagline and brand promise to share:
"Clichés, plagiarism, lazy repetition of unexamined ideas—this software does it all. We dare you to find a single bad scribe who can disgrace themselves and their profession faster than ChatTCM."
Jokes aside, this quote from an article on humor site McSweeney's exposes the nervous energy with which those who make their living from writing are talking about generative AI. No one can really predict the impact on the livelihood of writers. Even as new technology emerges to help expose when AI is used, the threat to the factory-like bottom level of journalism is very real and already creating cautionary tales like CNET's ill-advised scheme to create AI-generated articles filled with errors.
The coming months will have many more angst-filled condemnations of AI, along with how-to guides on mastering the quickly-evolving art of writing good prompts and refinement requests so AI gives you something decent in return. The irony, of course, is that the better we get at writing those prompts, the better we are making AI at improving the first draft so eventually the refinement will be unnecessary. The only question is how long that will take.
Why Floating Stages May Become the Standard At Future Super Bowl Halftime Shows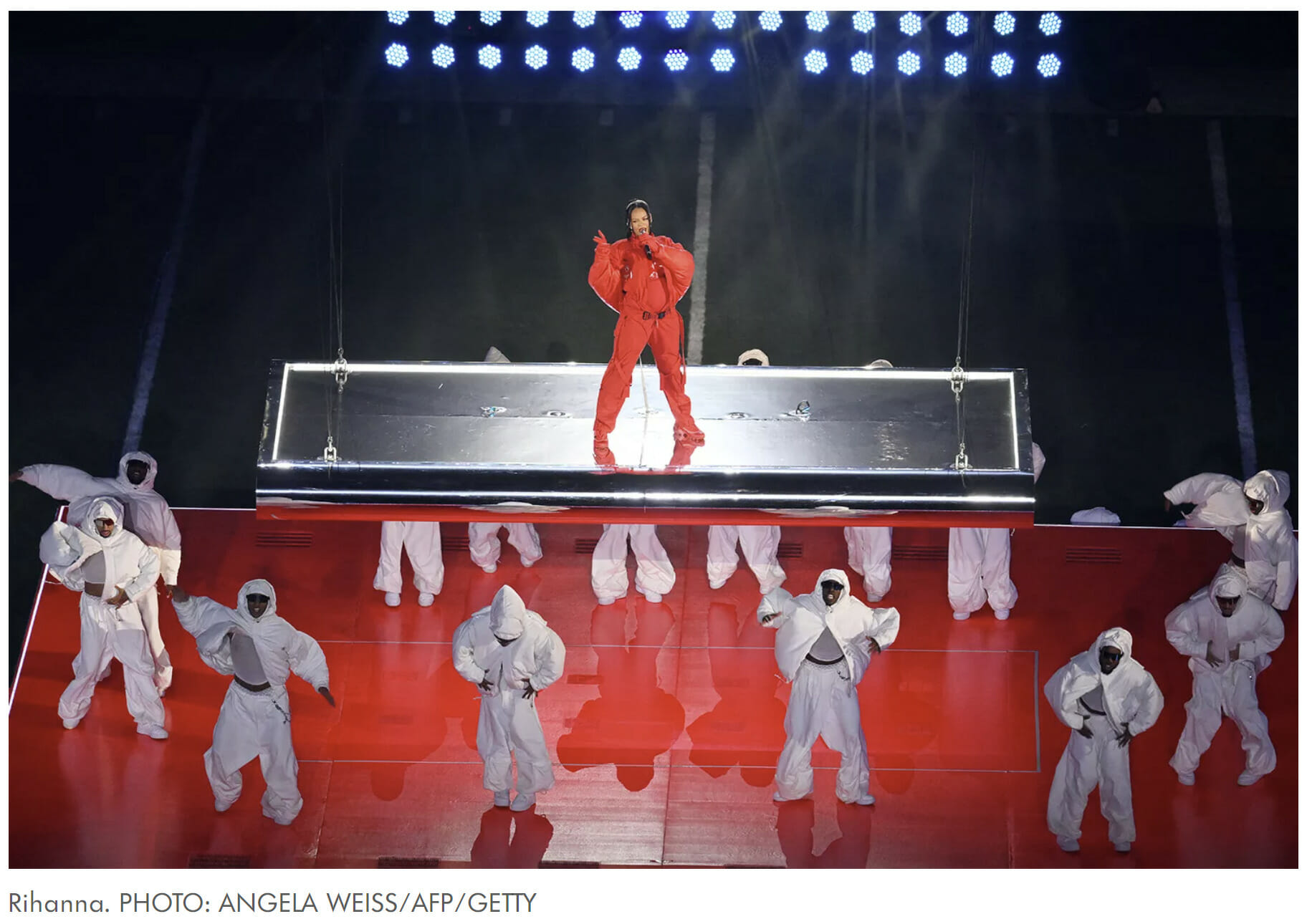 When Rihanna hit the stage for her halftime performance in this past weekend's Super Bowl, she was flying through the air. It was a theatrical element, for sure, but as this Wired article explores … it was also a clever way to try and keep the grass field intact and up to NFL standards for the athletes who would retake it after Rihanna's performance. The idea worked so well, it may become the new de facto standard at future Super Bowls.
In addition to the story of Rihanna's brilliant product placement that helped her generate big value out of a halftime appearance she wasn't paid for, this was probably the most interesting non-sports story for me coming out of the big game. And if you're after a sports-related one, this Five Thirty-Eight roster building analysis of exactly how the Kansas City Chiefs managed their salary cap to retain the players they needed, pay their star quarterback and still manage to win the title is fascinating.
The Best and Worst of Super Bowl Marketing Strategy This Year
While it's been a few days since the Super Bowl, if you're a fan of my usual roundup of the best and worst of marketing strategy – you'll enjoy this video I shared with all my picks, as well as the ads themselves. For my international friends who weren't able to see the ads, this video has it all in one place so you can see my comments and watch the ads too. After you do, let me know what you think I got right (or wrong!) …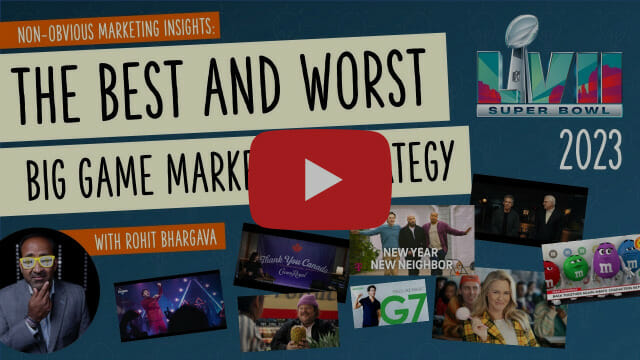 The Best and Worst of Big Game Marketing Strategy with Rohit Bhargava
Even More Stories …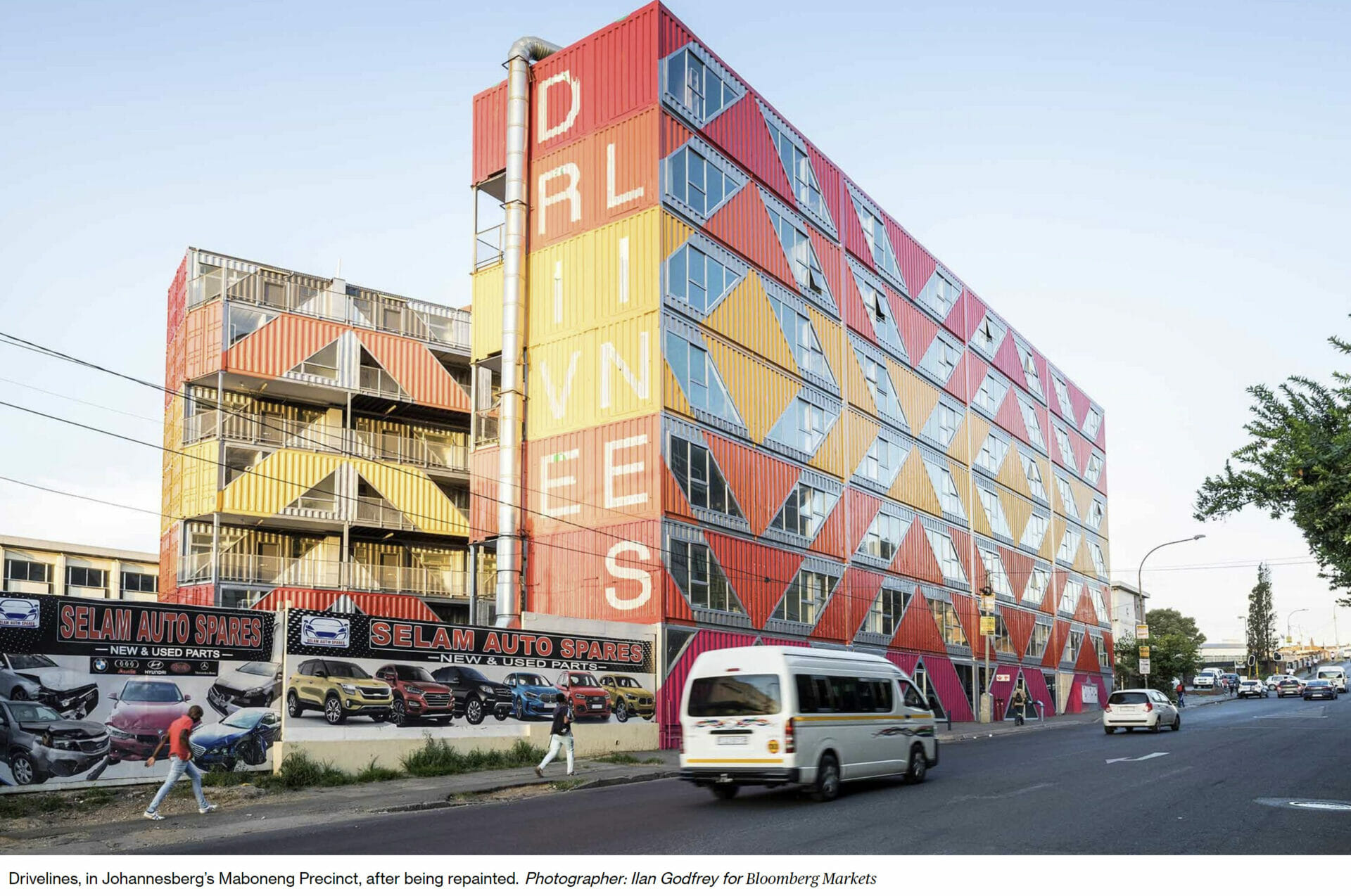 Every week I always curate more stories than I'm able to explore in detail. Instead of skipping those stories, I started to share them in this section so you can skim the headlines and click on any that spark your interest:
How are these stories curated?
Every week I spend hours going through hundreds of stories in order to curate this email. Want to discuss how I could bring my best thinking to your next event as a keynote speaker or facilitator? Watch my new 2023 speaking reel on YouTube >>
Get this newsletter directly in your inbox every Thursday! Subscribe here >>